Brace yourselves for some of the funniest, weirdest and most creative movie-related maguffins that have been buzzing around the internet this week.
Case in point, the amazing Batman , Joker and (rather tubby) Bane cosplayers above, who were snapped wandering around Las Vegas (via @Imgur ).
And it just gets better from here…..
PAUL GIAMATTI RE-ENACTS TWILIGHT & MAGIC MIKE
We love Paul Giamatti in pretty much everything he's done.
But when Vulture interviewed him earlier this week, they made a good point – he never gets the romantic lead roles (or the girl).
So they decided to take the schmaltz to him – and I think we can all agree that whether he's re-enacting moments from Twilight or Magic Mike , he deserves his own romantic role.
(Via @Vulture )
WHEN PIRACY GOES (EVEN MORE) WRONG

Piracy is bad. We know that, you know that, but it doesn't stop it happening all over the globe.
Sometimes though, the inevitable budget bafoonery of the cheap DVD knock-off industry can lend itself to some amusingly Lost in Translation LOLs.
Like the Star Wars cover art above, which – erm – seems to star Arnie. Oh, and have a really rather interesting subtitle.
Check out a host more amusingly mistitled box art here .
DJANGO UNGIFFED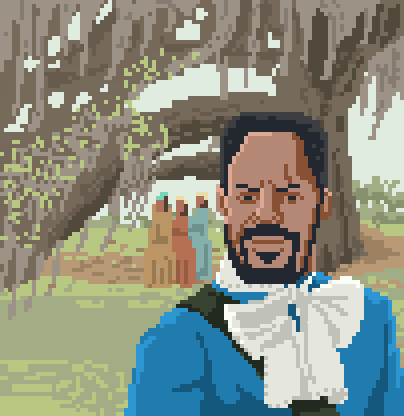 Love Django Unchained ?
Then you'll recognise one of the best scenes from the movie – 8-bit-asized!
We have no idea why, but we like it.
(Via @Cheezburger )
HONEST TRAILERS TAKE APART SKYFALL
We wrote a whole thing on why Honest Trailers are amazing, with lots of clips from their other very amusing trailer breakdowns.
But this week, it's all about their latest, Skyfall , which pokes (very loving) fun at the biggest British blockbuster ever.
Enjoy.
STAR WARS: EPISODE VII FAN POSTER BRILLIANCE
We've been asking YOU what you want to see from Star Wars: Episode VII over on our Facebook page (we'll be using your ideas in a new online feature coming soon).
To get the conversation started, we posted the above fan-made poster. Things went a bit nuts.
(Via @Imgur )
JOSEPH GORDON-LEVITT'S STUNNING PAPARAZZI MINI-DOCUMENTARY
It may be a few years old, but JGL's self-made mini-documentary on the terrifying reality of being stalked by the paparazzi has experienced a resurgence this week.
Fascinating and depressing stuff.
(We particularly like the irony of these photographers telling JGL's he's Hollywood small-fry. Fast-forward three years later though…..)
WILLY WONKA AND TOY STORY WILL MAKE YOU CRY
Last week, we brought you some eye-opening truths about Aladdin .
This week, we're proud to warp your perception of two of the most amazing children's movies ever, Willy Wonka & The Chocolate Factory and Toy Story .
(Via @Imgur )
HIT BY A BUS SUPERCUT
We didn't realise how much we needed this in our lives until we saw it.
Say hello to an incredible 12-minute supercut of (we're fairly sure) every death by bus/car/tractor SURPRISE moment from movies and TV.
(Via @Uproxx )
And, because it's Friday, we thought we'd gif up our favourite death from the above.
Take it away, Brad Pitt and Meet Joe Black . ….