Overwatch 2 was first announced during Blizzcon 2019, and since then the first beta wave has kicked off. We now know the game is launching into Early Access on all platforms on October 4, with another beta coming June 28.
From our own hands-on impressions, the sequel feels more like Overwatch 1.5 as opposed to a full-blown sequel and UI rework of the scoreboard seems to be at odds with the series' spirit.
Below, we've put together everything we know about Overwatch 2.
What is Overwatch 2?
Overwatch 2 is a standalone sequel to 2016's Overwatch. Designed by Blizzard Entertainment, the studio is pushing to ensure that no player is left behind by its decision to publish a sequel. As a result, it will come equipped with what the studio is calling a 'shared multiplayer environment'. This means that players of Overwatch and Overwatch 2 will be able to compete together in existing PvP modes, and that players will retain all of their unlocks and progression – including your skins, player icons, sprays, emotes, and more.
Speaking at BlizzCon 2019, creative director Jeff Kaplan confirmed a commitment to an "environment where no one gets left behind", noting that existing Overwatch players will also be able to new maps and heroes that will be coming to Overwatch 2. Given all of this, why should you buy Overwatch 2, right? Well, Blizzard is leaving you to make that decision – pointing to new story content exclusive to Overwatch 2, as well as upgrades to the engine and visual design of in-game elements, as it does.
Overwatch 2 release date confirmed for Early Access launch with free-to-play multiplayer
The Early Access Overwatch 2 release date has been confirmed, with the game launching on PC, Xbox Series X, PS5, Xbox One, PS4, and Nintendo Switch on October 4, 2022.
This will include the multiplayer PvP component of the game, which will be free-to-play.
Will Overwatch 2 have a single-player campaign?

Overwatch 2 doesn't have a single-player campaign, in the traditional sense at least. Instead, Overwatch 2 will feature persistent player versus environment modes. These PvE modes will be familiar to any of you that have played through the seasonal events in Overwatch – where four players must fight cooperatively against forces controlled by AI. Blizzard has confirmed two Overwatch 2 PvE modes so far.
In Story Missions you'll team up with the next generation of Overwatch heroes, guiding specific characters through missions to learn more about their history and motivations, and to battle Omnic forces in the largest and most dynamic maps Overwatch has ever seen. Overwatch 2 will also include broader Hero Missions, built to be replayed and let you and your buddies jump into arenas to fend off waves of increasingly difficult enemies. If you're new to Overwatch, these new missions may well remind you of Diablo's adventure mode or world quests in World of Warcraft.
Overwatch 2 will introduce new game modes
Overwatch 2 will introduce new game modes. The primary game mode in Overwatch 2 is called Push, a fun twist on the Payload game type. In it, two teams of heroes will compete over two robots that are each pushing a barrier deep into the other's territory. Whichever team's robot covers the most ground wins. Like all current Overwatch modes – Assault, Control, Escort, and Hybrid – it might sound simplistic, but the devil will be in the details.
Push is just one of the new game modes coming, but Blizzard promises more information on the others soon. Like all of the modes coming to Overwatch 2 in Quick Play, Competitive, and the Overwatch League esports mode, these are designed to emphasise teamplay, dynamic hero composition, and smart interplay across the map.
Confirmed new Overwatch 2 heroes so far
Following the release of Hero 32, Echo, in April 2020, Blizzard has now turned its full attention to getting new heroes ready for the release of Overwatch 2. While Overwatch players will be able play and customize Overwatch 2 heroes, you should expect any new faces to launch alongside the new game and not before.
At launch, it is expected that Overwatch 2 will be headlined by Sojourn. Not only is Sojourn Overwatch 2's first Canadian hero, she is also set to be at the center of the Overwatch 2 overarching story.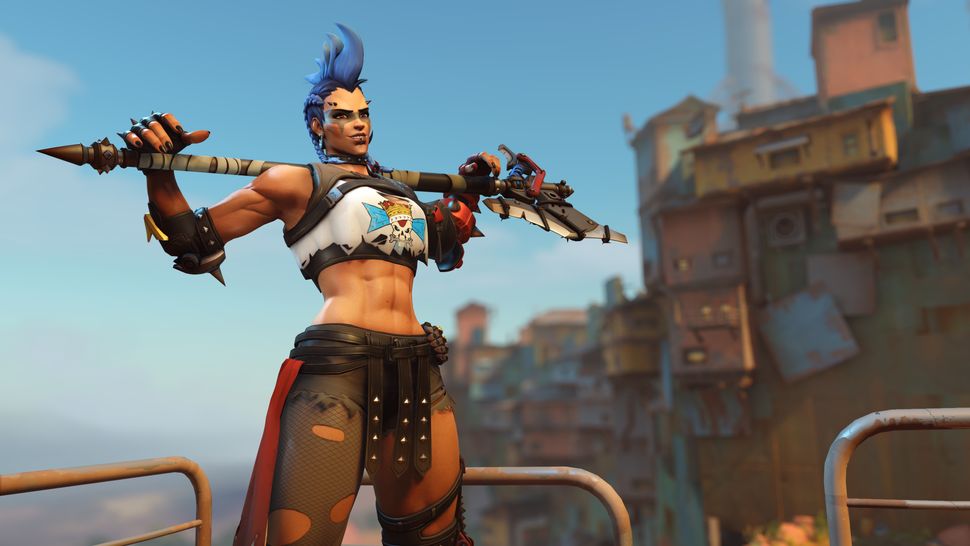 The second new Overwatch 2 hero confirmed is Junker Queen. She's a tank-class character who wields a shotgun as her primary, and then a large two-handed axe for a secondary melee attack. She also has a dash attack where multiple axes spin around her, and is able to recall her axe with some kind of magic glove.
Rumors have indicated that Overwatch 2 will launch with four new heroes in total, but this is yet to be confirmed by Blizzard.
Hero customization is evolving
One of the most significant changes coming to Overwatch 2 is in its hero customisation. While you've always been able to mess around with the way characters look – cosmetics are a large part of player expression in Overwatch, and will continue to be moving forward – you haven't been able to make significant alterations to a hero's abilities.
For Overwatch 2, Blizzard is opening up customization for its PvE scenarios. You'll be able to level up character abilities directly, further increasing your utility and forcing you to work closely with co-operative partners. Examples given include Tracer being able to automatically reload her Pulse Pistol when an ability is triggered, or being able to trigger additional explosions against enemies should they get caught in the blast radius of a Pulse Bomb. And, before you worry, these changes to hero abilities are just for PvE story and hero missions – they have been blocked from PvP to ensure that online balance remains intact.
Overwatch 2 will have new, more beautiful maps
Overwatch 2 will bring with it a host of new maps, but we've only seen three so far. There's Toronto, Gothenburg, and Monte Carlo, and there's news that the first of the story missions will take place in Rio de Janeiro. You should also expect these maps to be more reflective of the places they are based on, and more fantastical too.
Blizzard is upgrading the underlying game engine behind Overwatch 2. This, the company has teased, will let it build larger, more complex and dynamic maps. This is largely due to the increased emphasis on PvE game modes, with spacier areas required to help support story beats, new hero talents, and to accommodate for the wave-based combat cycles.
Overwatch 2 is overhauling hero designs
With the engine overhaul set in motion, Blizzard is taking this as an opportunity to overhaul the look of the game. While Overwatch 2 will likely resemble its predecessor in style and vibe, some changes are coming to your favourite heroes. Namely, Blizzard says that almost all heroes in Overwatch 2 will have a brand-new look, featuring greater detail and higher fidelity.
The changes aren't hyper significant, but they are noticeable. It goes to show just how much has changed since Overwatch made its debut in 2016 – technology has evolved significantly, and Blizzard isn't going to let the opportunity to evolve the core aesthetic of one of its most-played games go to waste.
What is the Overwatch 2 release date?

While first expected in 2021, Overwatch 2 was then delayed and expected this year. In November 2021, however, developer Blizzard said Overwatch 2 and Diablo 4 had been pushed out of 2022 so they reach their "full potential". Which was, of course, a little bit disappointing. What it does mean, however, is that Blizzard will have plenty of time to implement its new PvE modes, create new maps, fine-tune new heroes, and get the rest of the package together to ensure a smooth transition between the two games. We should learn more in the months ahead, so be sure to stay tuned.
---
Looking for more information on Overwatch 2? Our friends at Edge magazine played it back at BlizzCon 2019, so be sure to read their first-hand Overwatch 2 preview impressions.