Kick-Ass 2 has released a first official image online, featuring Aaron Taylor-Johnson and Jim Carrey in costume as Kick-Ass and Colonel Stars and Stripes respectively.
We know all about Kick-Ass, but the Colonel is the new character, and the head of the organisation known as Justice Forever, a ragtag bunch of costume-clad vigilantes.
Simply known as Colonel Stars in the comics, Carrey's character seems to have been renamed for the idiot demographic, but nevertheless, with his top to toe camo and star-spangled weaponry, he definitely looks the part.
The new film will see Kick-Ass back in action against Christopher Mintz-Plasse's villainous Red Mist, who has now reinvented himself as the fiendish Motherfucker. And as his new moniker suggests, he's a far nastier prospect second time out.
Check out the image in full below: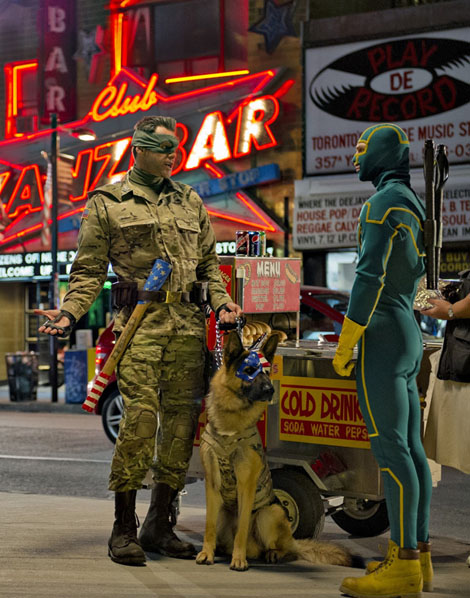 Directed by Jeff Wadlow and co-starring Chloe Moretz, Donald Faison and John Leguizamo, Kick-Ass 2 will open in the UK on 19 July 2013.